About Tour de Ambarrukmo 2019
Tour de Ambarrukmo is one of the biggest annual bike event in Yogyakarta. They will guarantee the participants will feel the competition while enjoying the beauty of Yogyakarta's nature. The participants come from many different cities around Indonesia.
The Project
The goal of this website is to inform the participants about all things about the event. The challenge for us is to simplify the registration flow from their site last year, because they feel the flow was too long and too confusing.
So this was their registration flow last year: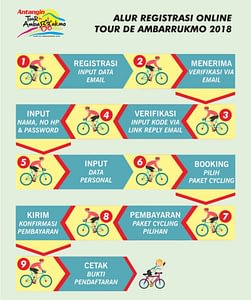 And we managed to shrink down the flow become this simple:

Besides the registration flow, we also create check-in system for the participants to enter the event itself, using ticket that they will get from the registration.
Duosweb is a web development service based in Yogyakarta, Indonesia
Duosweb adalah jasa pembuatan website yang terpercaya di kota Yogyakarta / Jogja